The concept of Bonnymia is that each item is unique and original created with passion.
Bonnymia art adds an artistic flare and a classy feel to your home.
Maltese born artist who shares a strong connection of family through her art.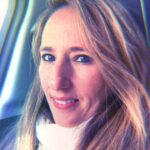 I started painting from a very young age and have experimented with many media. Working on large canvases I expressed my passion of history, traditions and art. This led me study a BA (HONS) in International Relations. I furthered my studies by reading a Masters in Publishing Production from The University of the Arts, London, before moving on to Goldsmiths College London where I graduated as a Teacher of Art. Only a few years ago I came up with the concept of painting on wooden utensils, boards and bowls. This was not a concept plucked out of thin air, ever since I was five I dreamt of becoming an artist and my artwork developed and changed and as I grew, my art work also did… So today I want to remind myself why Bonnymia came about…. Having left Malta when I was only 20, moving away was not easy. I was terribly homesick and missed my very close family a lot. As I grew older, the distance felt greater and losing my grandmother back in 2017 was a huge blow. I could not imagine going back home to visit and not seeing her. Visiting the island was never going to be the same again. I battled so hard with the the thought of her not being there. My Nanna was an incredible lady who loved being surrounded by people, whose home was always an open door. She had a heart of gold and would put others always before herself. Nanna was like a magnet, people were drawn to her, she always had a full house and an infectious love for kids. 
 After her death I ended up in a very dark place, everything around me seemed to have gone wrong I was unable to shake the feeling of being lost and alone despite having so many people around me that loved me and supported me. I felt isolated…. 

And that is when Bonnymia was born. I wanted to develop my paintings to recreate those happy memories of being with family at my grandmothers' house! With her warm heart and vibrant aura, the warmth of wood and the bright colours of my pieces symbolise my Nanna. My artwork is serving a personalised memory whilst still adding class to your interior.
What makes Bonnymia Special
The ability to personalise artwork to tell a story and yet still be functional and unique